Sometimes we do things that some people could only chalk up to us being crazy. Maybe we are, but we have fun. This weekend Sherri and I went and visited Robin and Kenra in Salt Lake City. I left after work on Friday and rode the bike. Sherri couldn't leave early enough on Friday, so she flew out to meet us. She wouldn't want to ride that far in one stretch anyway, and I'm glad she didn't. We stayed Saturday night and I rode out of Salt Lake a bit after noon on Sunday (yesterday).
I didn't take any pictures on my way out. I was in a hurry to get there, the weather was perfect and it was dark for most of the trip. I left Grass Valley at 4:19. There was a strong cross wind, but my +4+1 Cee Bailey was easy to hide behind. The bike just seems to know how to lean to stay straight with a cross wind. I guess I have something to do with it, but it doesn't seem a consciuos act.
I arrived at Cdogman's house at 1:30 ish Salt Lake time. I had completed the 613 miles in 9 hours 15 minutes, super slow by Greg's standards. Greg who? Anyway, it was pretty good time considering that I actually stopped to buy a camel back bladder (forgot mine!!!) and to eat. Robin had a flood light shining on his house number and a cool motorcyle stand waiting for my bike:
I have seen these stands before, I was considering buying some for our bikes at home all they way up to the next morning.
Cdog and I tried to figure out how it happened. It happened sometime in the middle of the night because we were up for a while and would have heard the fall as we were in the room next to the garage. We picked the bike up, and tested the stand. We couldn't get it to fall without some really significant force. This is an unexplained mistery that changed out plans to ride to see the fall colors to some minor bike repair. In short. I needed a windscreen. Before I could finish my morning shower Cdog had found a screen and we were soon on our way.
The Yamaha dealership had a stock screen, but no nylon screws so we went to Lowes. They had some metal screws the right size so that's what we bought. With the winshield on, we decided to ride. Then the rain came. We rode to the liquor store, then up a hill in a new neighborhood and the rain was hard enough that it was just careful riding. So we decided to go back to Robin's house for eat and drink and a fire.
and we listened to music
and threw Alex's ball down the stairs.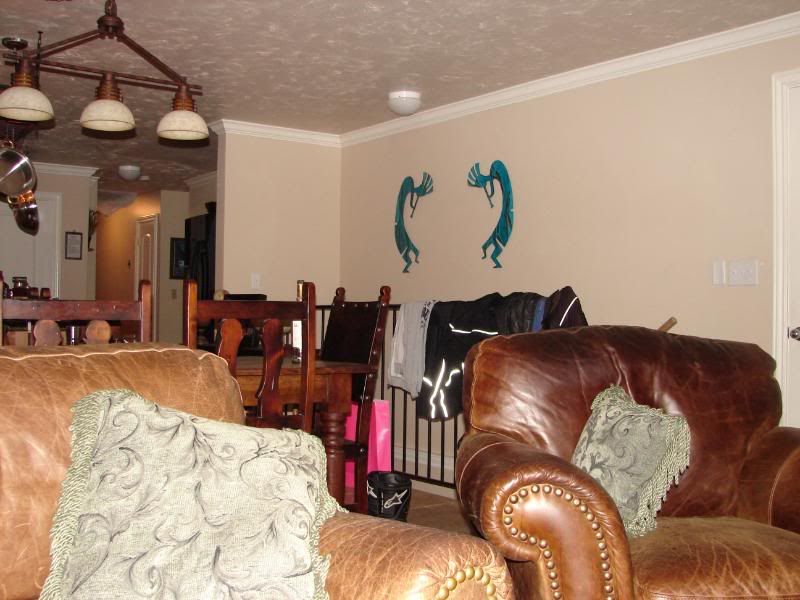 You notice all that was from one spot?
Where the heck is Sherri? She was supposed to be here at 3:10 or sumptin.
Another comedy of errors. The flight leaving Sacramento was late. Then it didn't have parking in Las Vegas so they sat long enough for her to miss her connecting flight to Salt Lake. She got put on another flight that got delayed 4 times due to thunderstorms. ??? WTF? We saw no lightning, heard no thunder and the wind was barely blowing. Kenra went to pick up Sherri and her credit card was taken by the parking machine and it didn't come back. An attendant had to come get it for her. Finally Sherri got there and it took her longer to fly to Salt Lake than it did for me to ride there!!!
Then we partied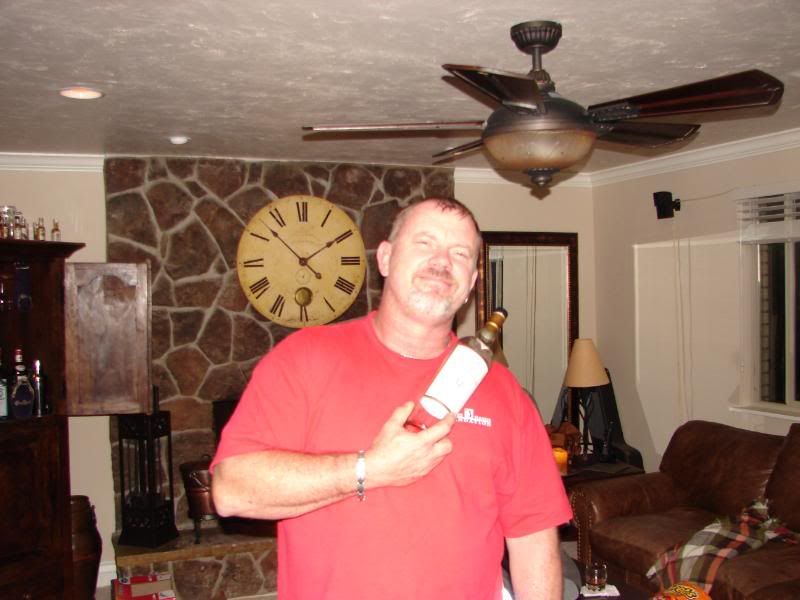 I went to bed at 2:30 knowing that I had to get sleep before my ride and I wanted to leave around noon. We slept until 11am. I left bit after noon.
Utah had all sorts of fun weather all around me. There were isolated rain showers and a very turbulent sky. I missed my Cee Baileys early in the trip. The cross winds were brutal at times, but is sure made for a pretty sky. I circled my bike and took these pictures.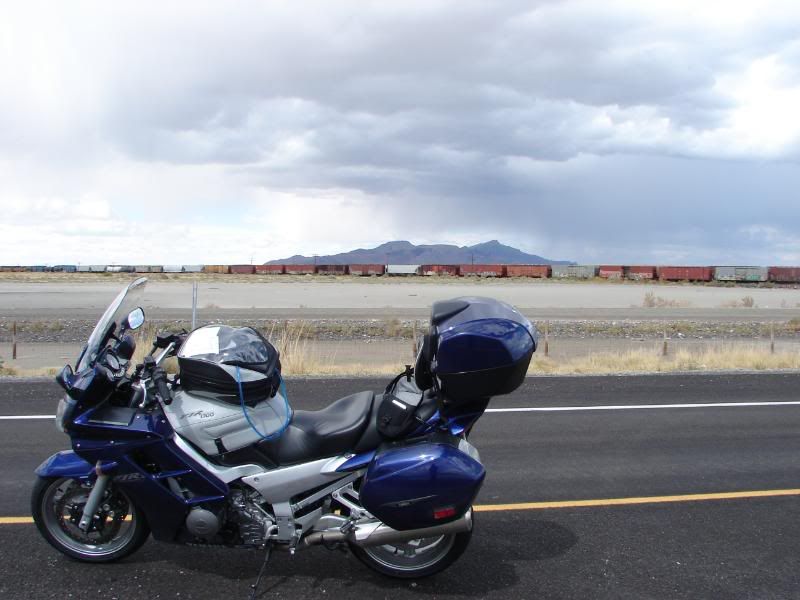 Then I kept riding.
There always seems to be Utah State Troopers near the border of Utah and Nevada on I-80. I tend not to speed anywhere within 25 miles of the border. I slowed a bit earlier this time for some reason. About 15 seconds later I slowly purred past a trooper within 5 of the limit.
Then I hit Wendover and I hit a wall of cold air. There was an immediate snap of cold and the wind changed. I stopped to get some food. I met Paul White from Columbus Ohio in the Burger King in Wendover. He has a 1995 and 2003 K-LT bikes. He was riding his 95 K1100LT to Los Angeles to keep it at his son's house so he could have something to ride in California. He was a nice guy so I invited him to stay with us anytime. He said he'd take me up on it.
I left my sunglasses on my tank bag in Wendover and took off with them there. I double backed and didn't find them. Bummer. I put on some more layers and took off. I stopped pretty soon; Wells is just down the road, and since Wendover to Winnemucca is too far on one tank at high speed, I topped off. I also put more layers on. It got colder. Here's a picture of the mountain in Wells, Nevada.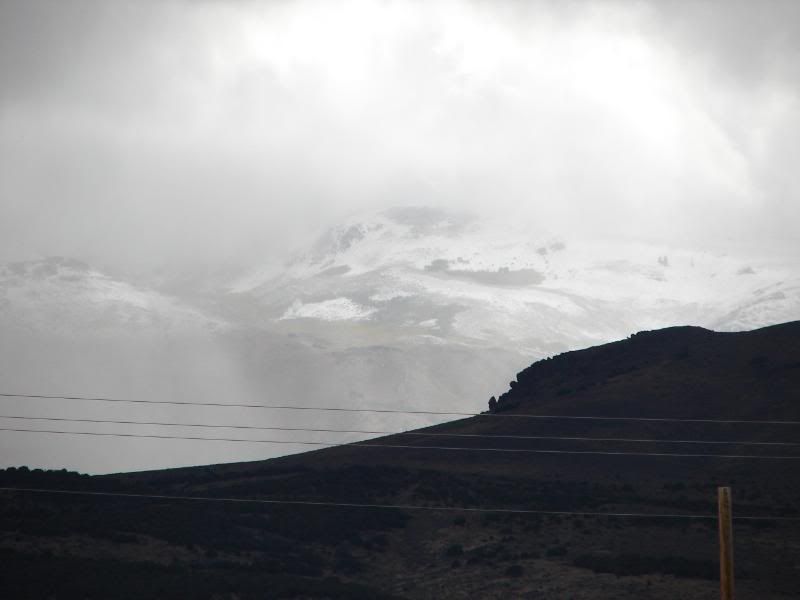 Yep, that's snow on the hill and as I crested the pass, some of that snow fell on me. It was cold. I'm thinking a heated vest and gloves might be my next investment, but it really wasn't all that bad, but I wouldn't characterize the ride as comfortable. It was cold and that stock screen didn't do much for me unless I laid my chest on my tank bag. Did I mention that when my bike fell that it also broke the metal W? Bummer.
I had to pee and Palisades was an exit. There wasn't much there, but there were some nice views and an old lariat that was discarded, probably because of the bound up section that made it harder to use. I still managed to catch a fence post with it.
Who are you visiting next weekend?